Wedding Tuxedos
& Suits
We make
weddings easy.
We make weddings easy.
Organizing a Wedding Party
is Finally Simple.
Organizing a Wedding Party is Finally Simple.
1

Step 1

Choose the Perfect Look

Build one or more custom looks to outfit your wedding party, or choose from one of our professionally-styled Complete Outfits.

2

Step 2

Add Your Groomsmen

Choose which looks to pay for—we'll email everyone else with an outfit that's ready to rent. Once you've paid for at least one look, we'll reserve all the suits so you can rest easy.

3

Step 3

Track Your Wedding Party

Use our event manager to see who is ready to go way before the big day.
Did We Mention Grooms Rent Free?
If you've got the crew, we've got you. Reserve looks for your wedding party, we'll cover the cost of your rental.
Learn More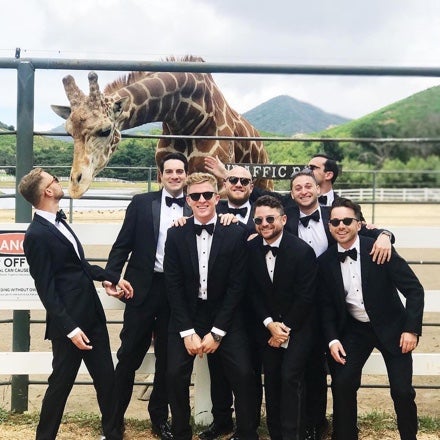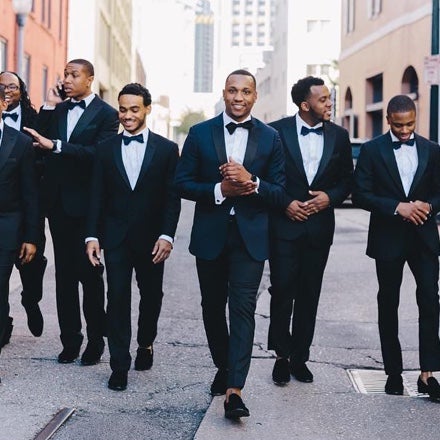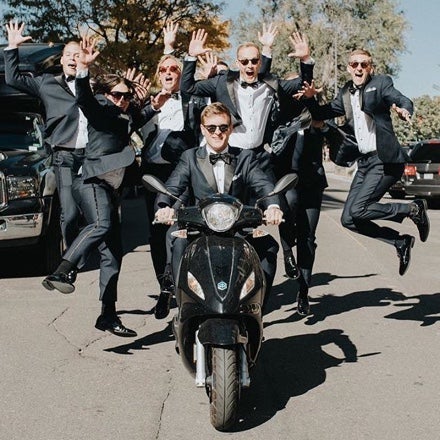 Fit & Quality
The Perfect Fit
Our fit algorithm is designed to find your perfect fit the first time.

Your suit arrives 14 days before your event.

If anything isn't perfect, we'll send a free replacement.
More About Sizing & Fit
Only the Best
We only offer high-quality, well-cut suits.

Our 100 percent, extra-fine merino wool is sourced directly from Italy.

Every suit or tuxedo you rent from us should look and feel brand new.
More About Quality
---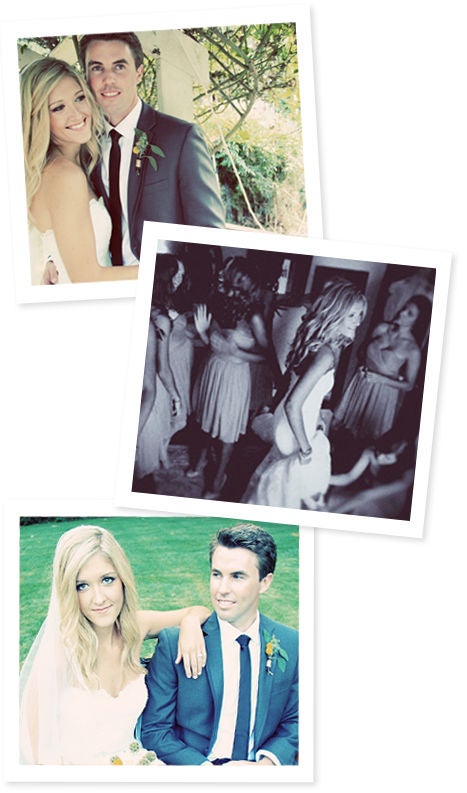 Dear Brides-To-Be
As a recent bride, I know how important it is to have everything looking perfect for your wedding day. I also know how many things you have going on. You don't have the time or the energy to spend researching tuxedo rental brands or visiting different rental stores, not to mention finding a time when you and your fiance both can see tuxedo options during normal business hours.
In my experience, helping my husband find tuxes turned out to be a headache. I couldn't find what I wanted. The tuxes we saw were overused, low quality, out-dated styles and brands. I had to settle for a local shop because I was running out of time and patience. I also was left in the dark about the status of other groomsmen's orders... how could I be sure who had ordered and who hadn't? The whole process added unnecessary stress. Not to mention the fact that we paid top dollar for a less than adequate product.
Wasn't there an easier way to rent a tux? Now, there is.
The Black Tux was made to be a different company. We love fashion. We want to make it easy. We care about brides.
Yours,

Jenna Blackmon
View the Collection
Suits in the Wild
Actual Suits, On Real People,
At Real Weddings
Actual Suits, On Real People, At Real Weddings

The Black Tux Showroom
Brides & Grooms Only
Not sure what you're looking for? Looking for some tips or inspiration from professional stylists? Make an appointment to visit our Los Angeles showroom.
Make a Reservation
---
Free Home Try-On Program
Plan Ahead, Find Your Fit
Not sure about us yet? We'll let you test the style, fit, and quality of our tuxedos and suits—jacket and pants—with corresponding vests, months before your wedding.
Check It Out
---
Experience the New Way to Rent