Running short on groom suit ideas? Before you show up completely naked to your own wedding (nice), let us share a few tips about the foundation of groom outfits: the suit.
If you've already decided a tuxedo is too bold for the wedding you and your partner are planning, that narrows the field to groom suits. But don't settle for the first suit you see, willy-nilly. With some consideration—and a little advice—we'll help you pick the perfect suit for your big day. Get started by choosing a color family, the season, or the vibe—formal or casual—of your wedding below.
---
Table of Contents
Groom Suit Colors
Grey Suits
Blue Suits
Black Suits
Tan Suits
Groom Suits By Season
Spring & Summer
Fall & Winter
Groom Suits By Vibe
Casual Suits
Formal Suits
---
Grey Groom Suits
Going grey can be a good thing. With endless ways to wear a grey groom suit, it's a good look no matter the season or time of day of your wedding. The grey suit can also hold its own for any wedding dress code (except the really formal ones), but with a little extra attention to detail, you can dial up the perfect shade of grey for your wedding style.
Light Grey Suit
Light grey suits are best for the spring and summer, and a great option for a daytime wedding. That's because the light grey color will absorb less heat and keep you cooler than a darker shade, like charcoal. If you're planning a formal wedding, you might be better off in a darker shade of grey—light grey is one of the most casual groom suit colors.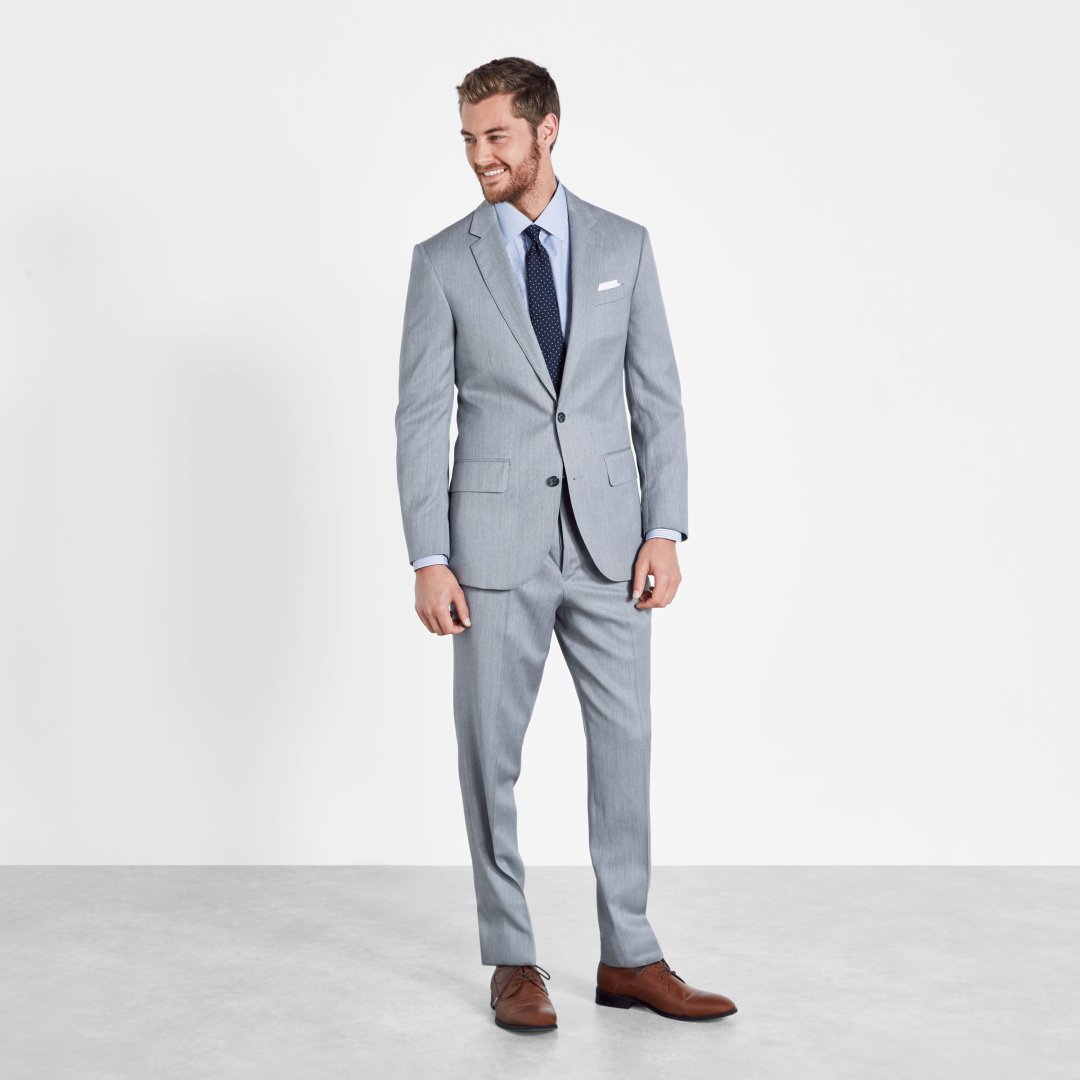 Grey Suit
If you're outdoorsy, you've probably heard of a four season tent; well, this is the four season tent of groom suits. But just like camping, grey is at its best in the fall (with a tiny flask of hooch). Medium grey suits are all about versatility—they match with just about anything, which means you can accessorize a grey suit for a formal wedding or dress it down for a more casual ceremony.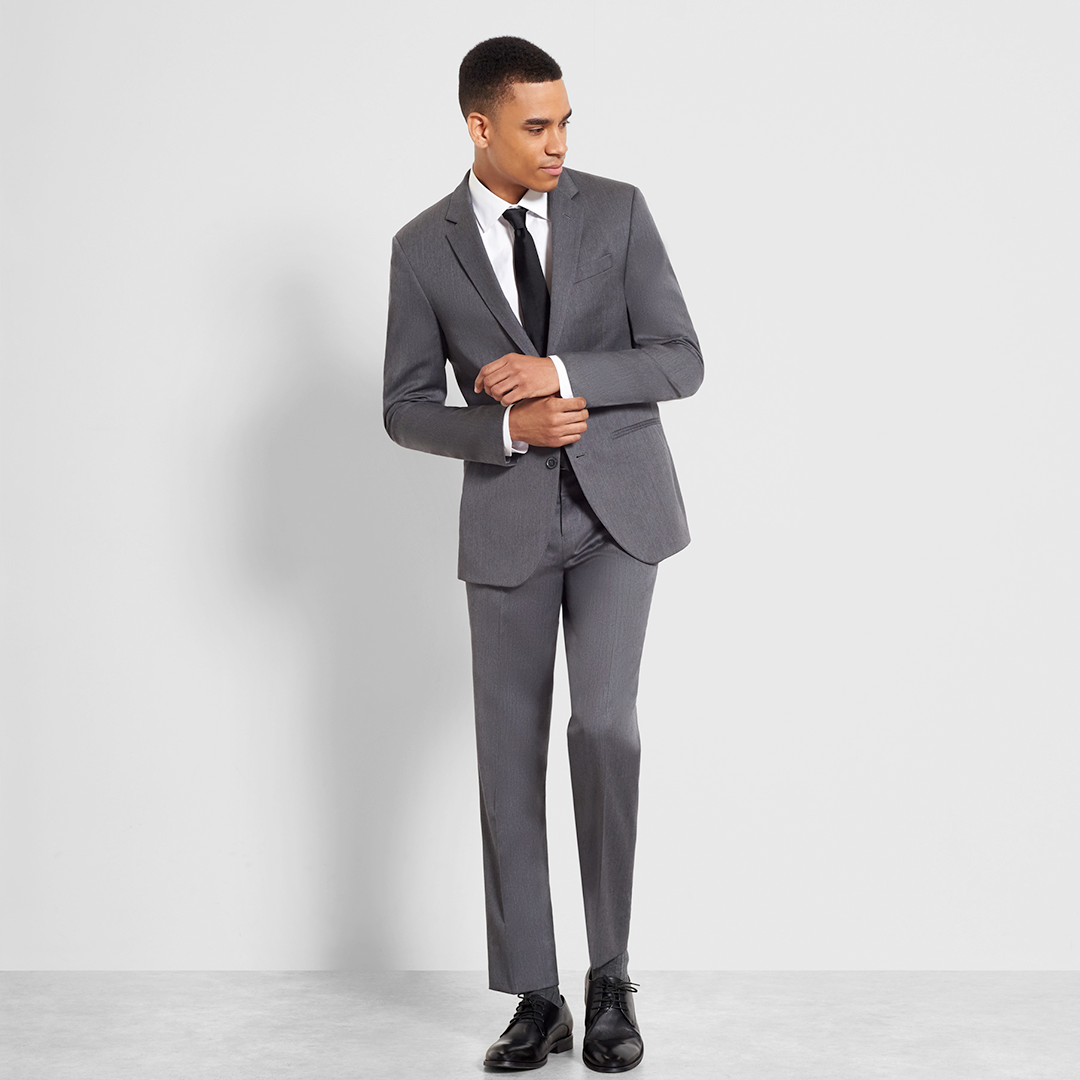 Charcoal Suit
The dark fabric of a charcoal suit means it's well suited (my anaconda don't want none unless you've got puns, hun) for fall and winter weddings, or any wedding that starts after 4pm, roughly. If that sounds like your wedding, or if you're leaning toward a formal wedding, this could be the suit for you—charcoal is on the formal end of the suit color spectrum.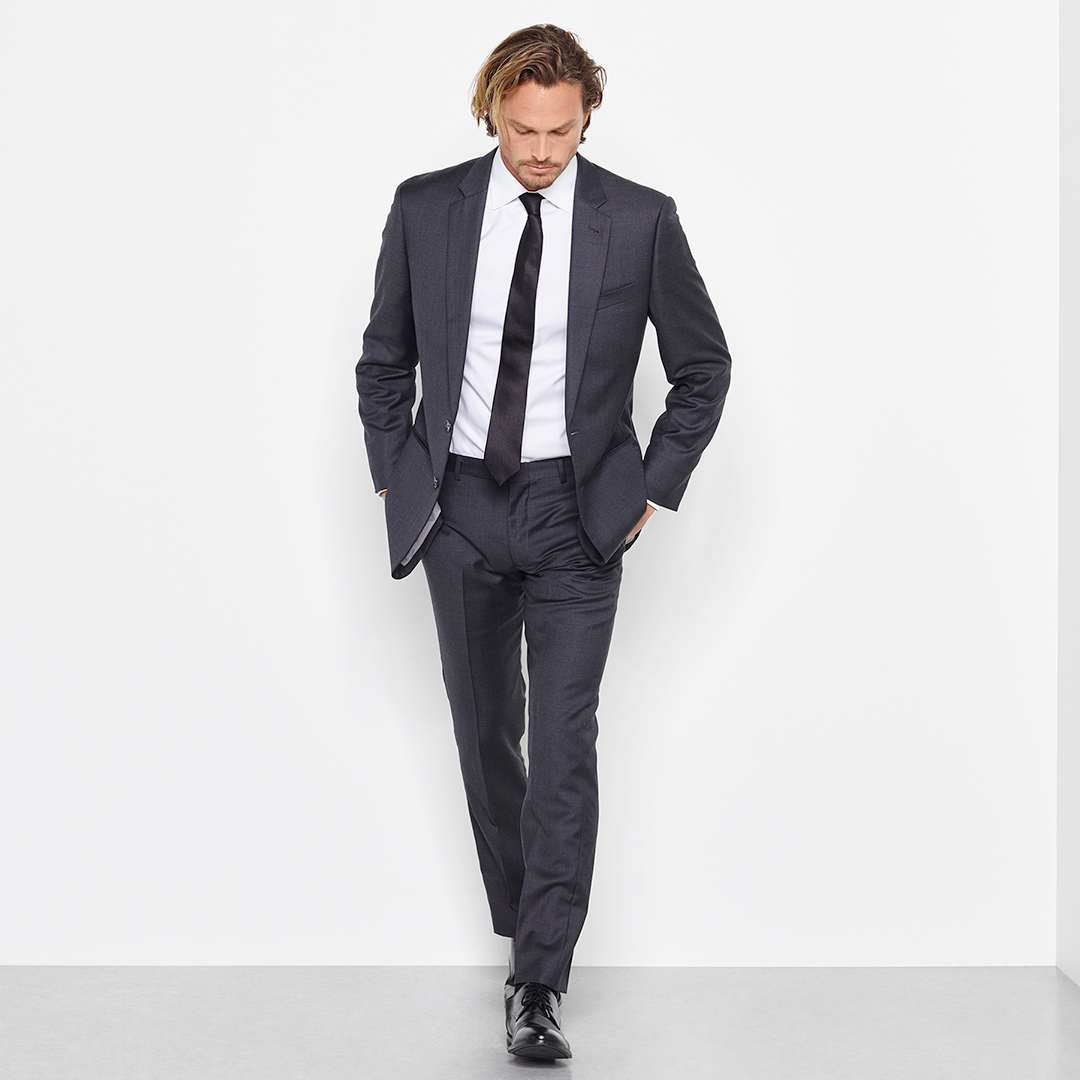 The Blog Newsletter
Good advice never goes out of style.
Expect magic in your inbox ✨
If you're following along at home, you might've picked up on the trend that the lighter the color, the more casual the suit. The opposite can also be true: darker suits tend to be more formal. Ultimately, you'll dictate how buttoned-up your look is through the accessories you choose, so if your wedding plan is casual, a charcoal suit is still totally fair game.
---
Blue Groom Suits
Blue or navy wedding suits are the best choice for a colorful groom suit. Shades of blue tend to punch up the colors you pair with them, bringing out the best in your tie, pocket square, or even the dress shirt you choose.
Blue Suit
The blue suit is modern and bold without crossing the line into trendy territory. (Note: "Trendy" isn't always bad, but take a groom suit trend too far and you'll find your wedding albums filled with regret.) The blue suit is a smart choice for an evening wedding in the spring or summer. In the fall, you can get away with blue during the day, but probably skip the vest—you never know how the temps will look like in late September. This is a casual groom suit, so read on if you're looking for something formal in the blue family.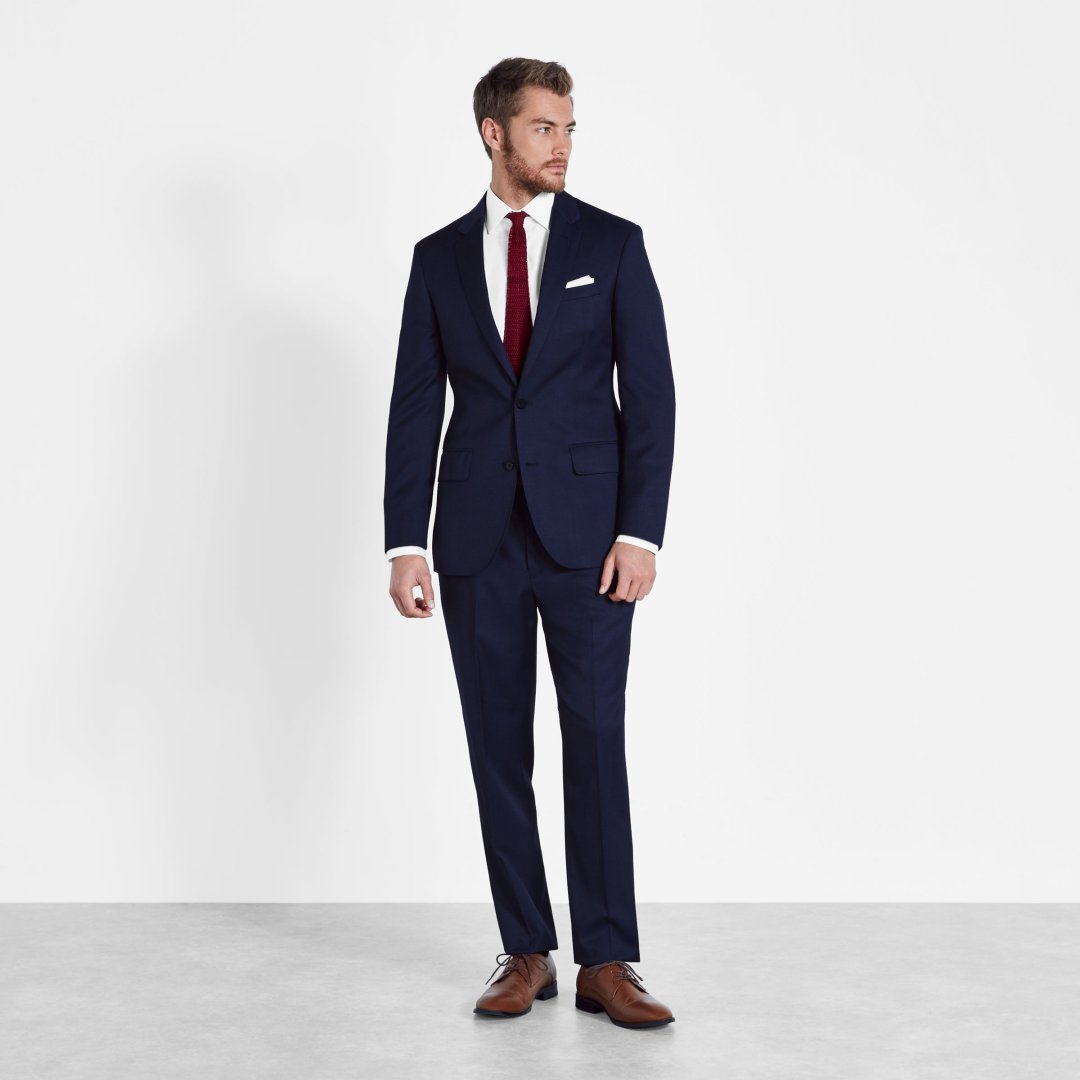 Navy Suit
Classic navy suits feature a dark fabric that works best for summer and fall evenings. You can also wear navy for a daytime wedding in the winter—the darker color will keep you a little warmer if it's a chilly day. Compared to similarly dark groom suits, a navy suit's fabric will soften your look the most by way of its deep blue tones. Dress it up with black and white accessories or a bow tie, or dress it down with a little more color for a casual look.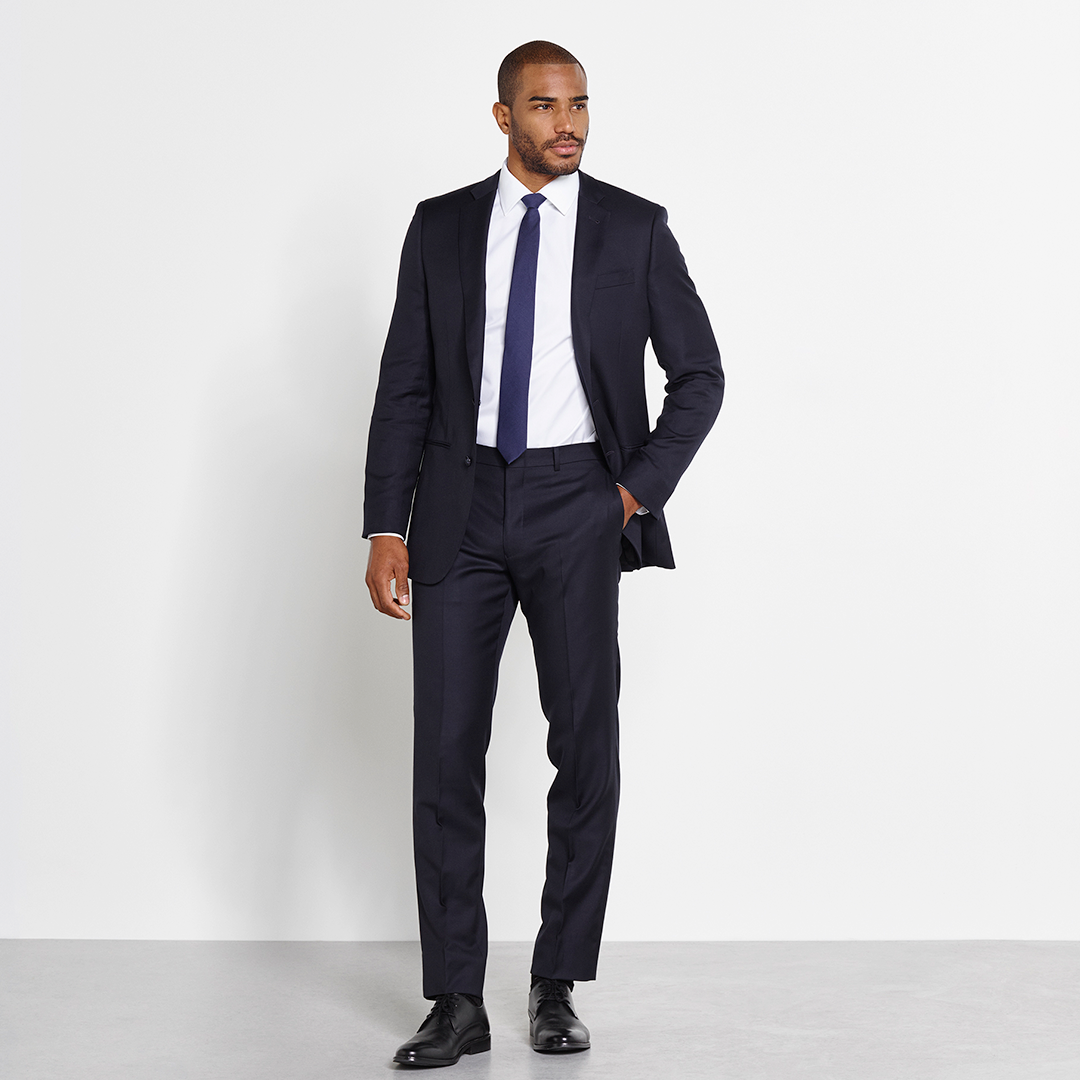 ---
Black Groom Suits
Black suits are the most formal groom suit option short of a tux—in fact, there's little that separates the two. They're also a little harsh for a groom suit, which is why this is only recommended for evening or winter weddings. If you decide a black suit is the way you want to go, try to work in a little more color than basic black and white—otherwise, you'd be better off wearing a tuxedo.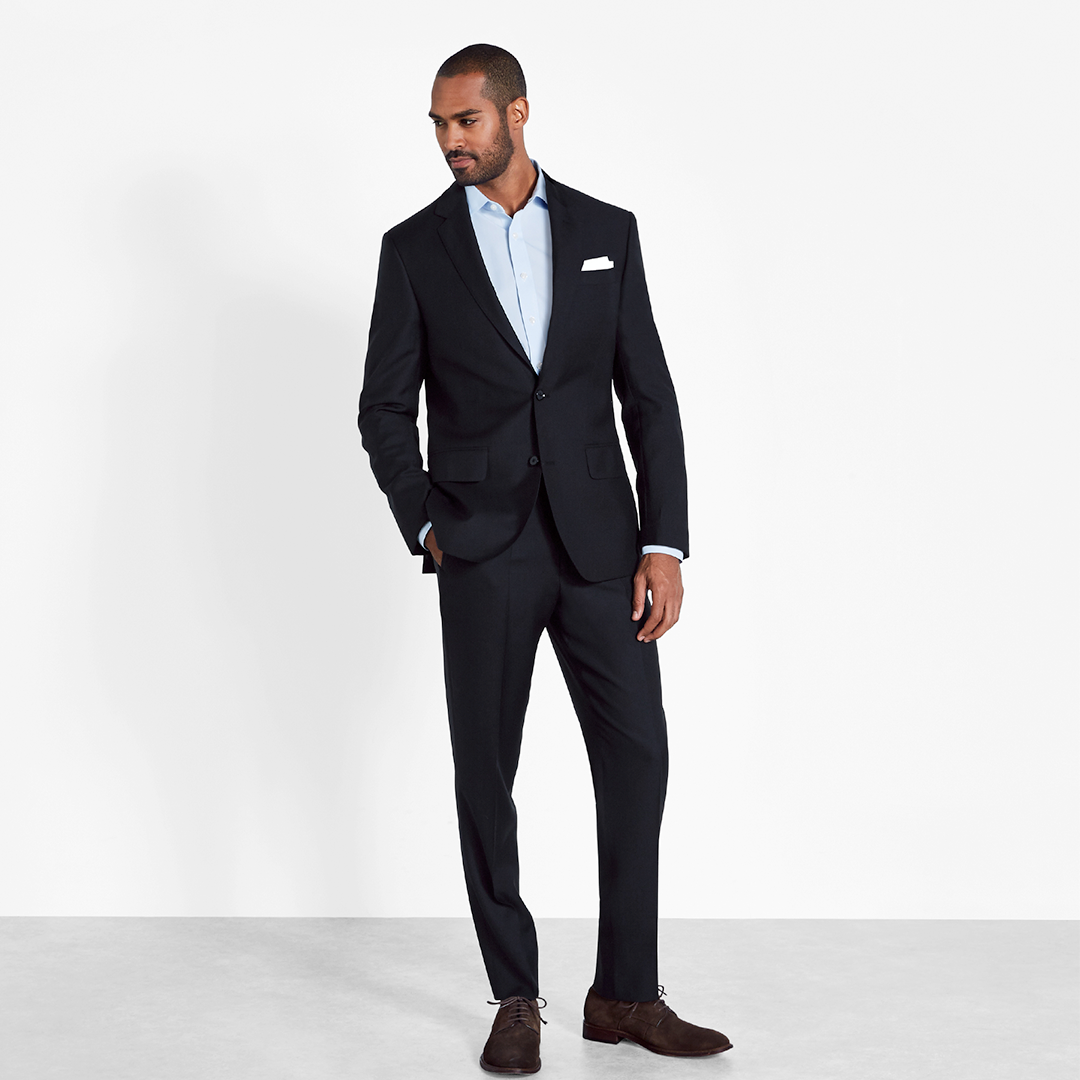 ---
Tan Groom Suits
Like the light grey suit, the tan suit is relatively casual, so best for the daytime. You wouldn't choose a tan suit for your formal wedding—tan just won't project that polished look you'd need. But if you're getting married on a tropical beach, or in a rustic barn, or at the base of a mountain in the spring or summer, a tan groom suit might fit the vibe perfectly.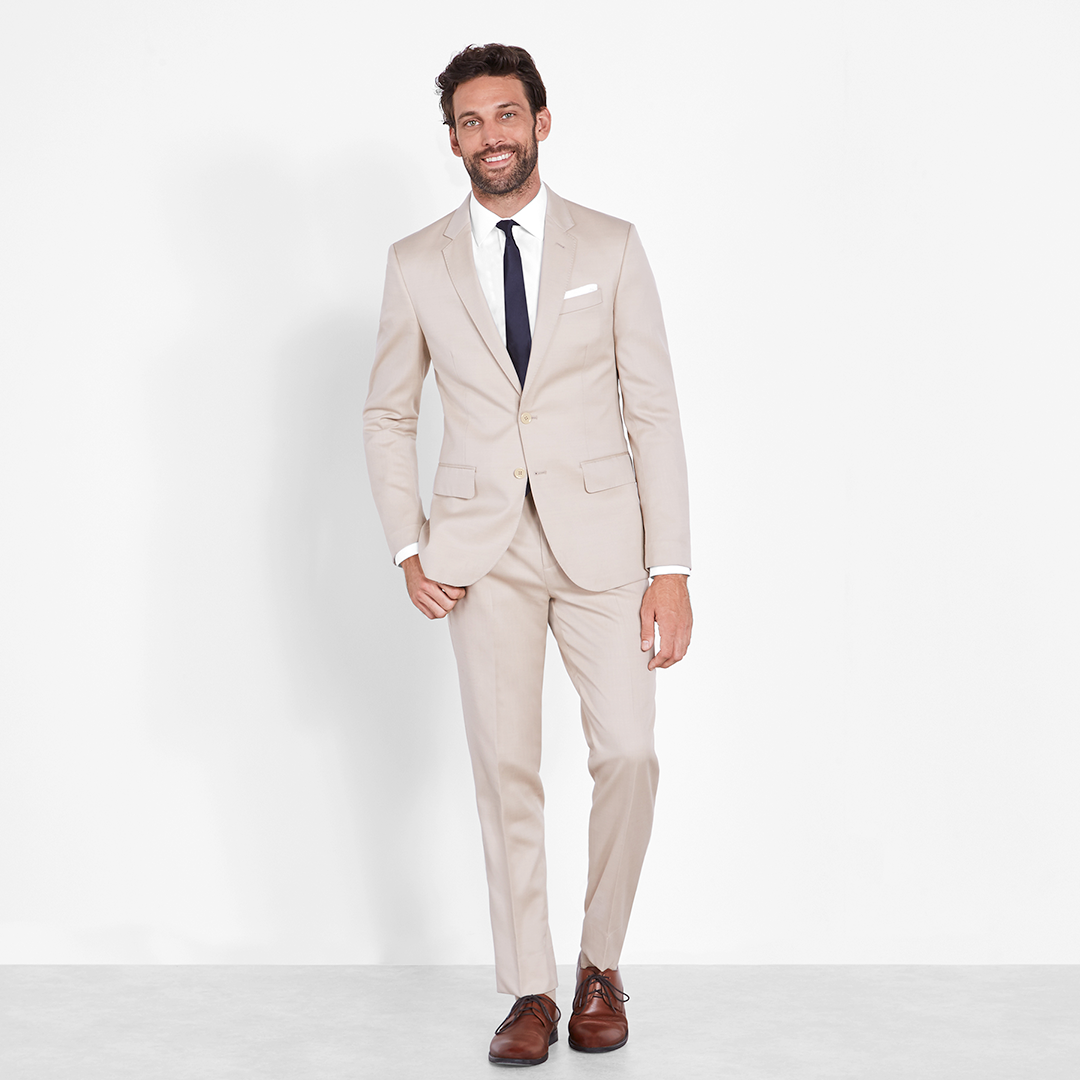 ---
Spring & Summer Groom Suits
We're talking flowers and sunshine, people. Spring is all about bright, bold color. Our spring groom suit recommendations fit into this equation in different ways. Summer is a slightly different beast, but the best groom suits for each of these seasons tend to be brighter or lighter in hue.
Blue Suit
This suit brings the color all by itself, which means you can use a little more restraint with your accessories. Pull together a monochromatic look with navy, light blue, and brown, or add a pop of color with a bold necktie on a crisp white dress shirt.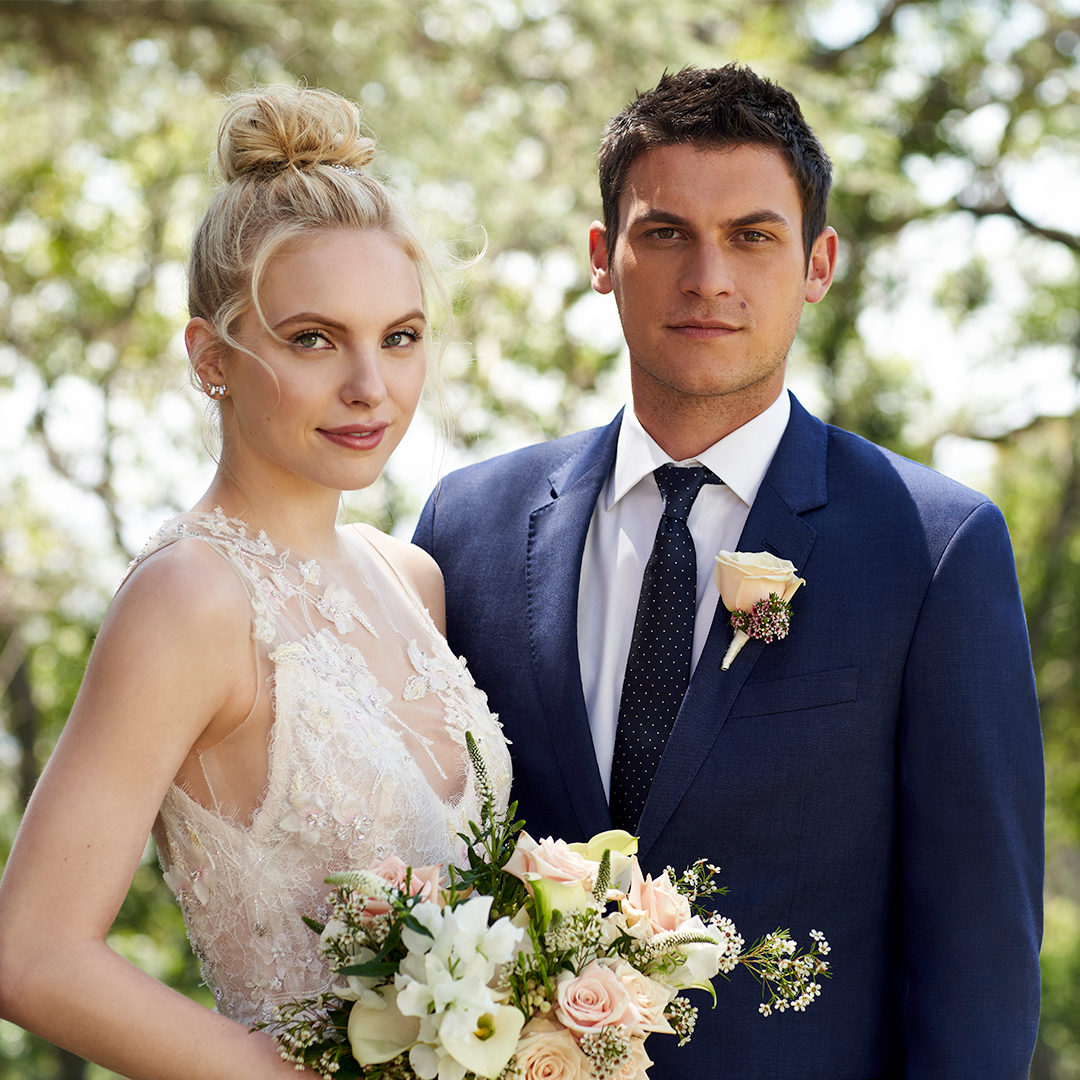 Light Grey Suit
If you're looking to accessorize with a lot of color, this is your groom suit. The light grey fabric provides a blank canvas, and no color family is off-limits. In the spring, under-saturated colors or pastels are an especially good match (think pink instead of red, light blue instead of royal).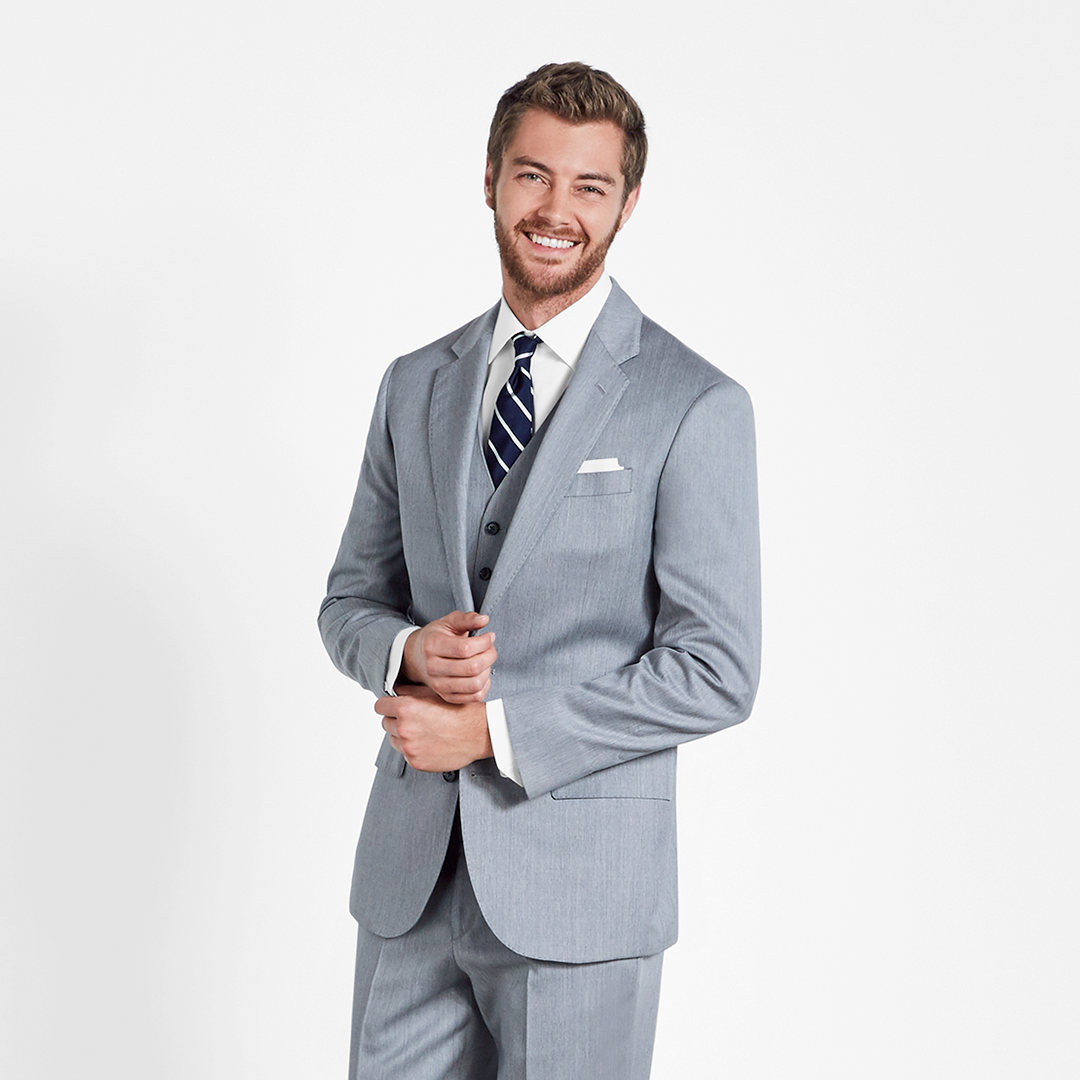 Tan Suit
The tan suit is the reverse teacher—that is, it does most of its work during the summer—and practically the unofficial mascot of beach weddings. Tan groom suits bring out more color in your outfit than the closely-matched light grey suit would, so go ahead and get crazy with that pocket square, you tan-suit-wearin' maniac.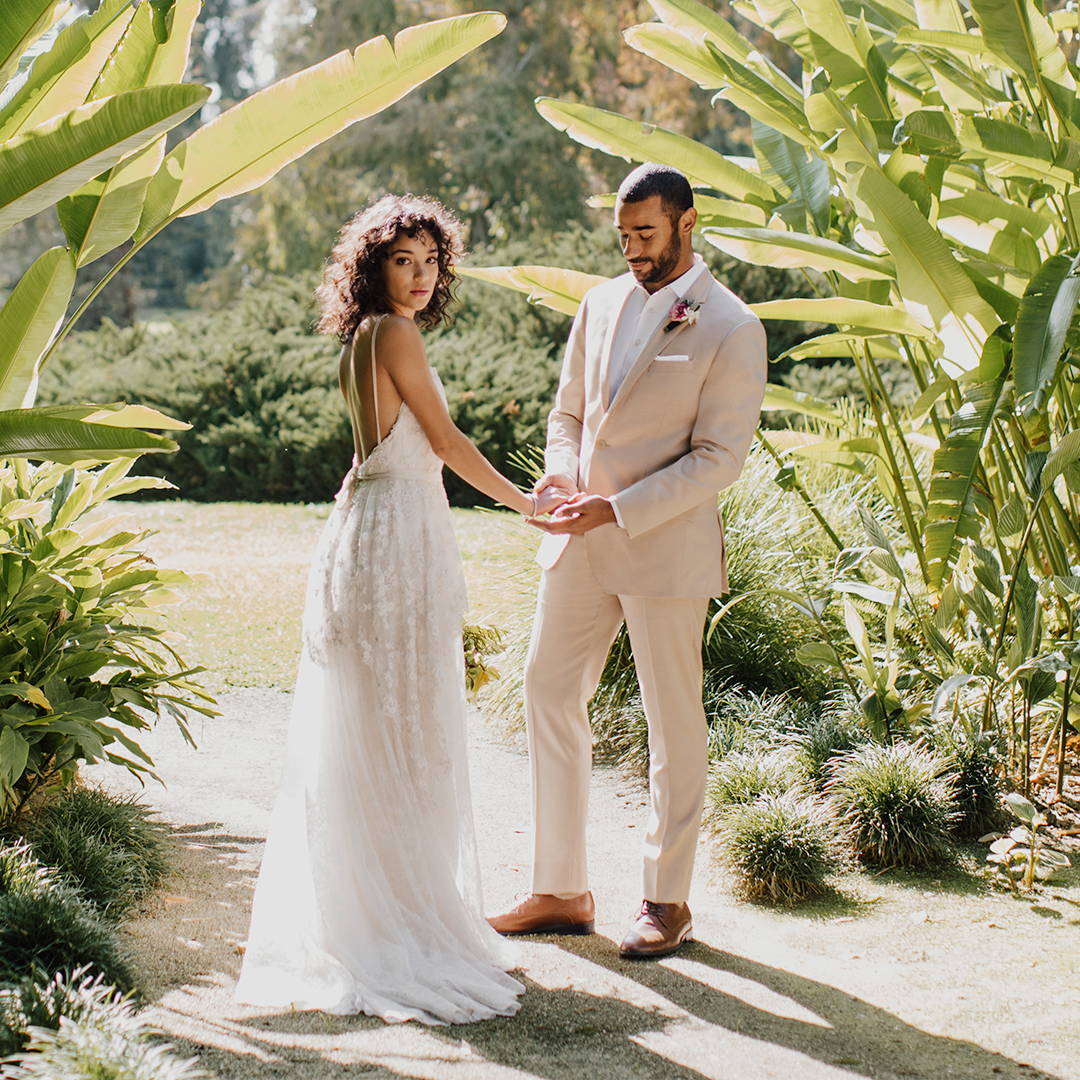 ---
Fall & Winter Groom Suits
Fall can be a tricky season to dress for—especially for your wedding. You set the date and rent your suit ahead of time, but it's really anybody's guess whether your big day will be a scorcher or frosty. If you're not a meteorologist, mitigate some of this seasonal uncertainty by planning on a vest, and ditch the thing if it's hot. Winter is simple—stick to darker colors.
Grey Suit
You could wear a medium grey suit in the spring or summer and look (and feel) great, but this grey works especially well with fall and winter colors and textures, like this knit tie. The grey suit isn't too dark, so a solid choice for a toasty fall day.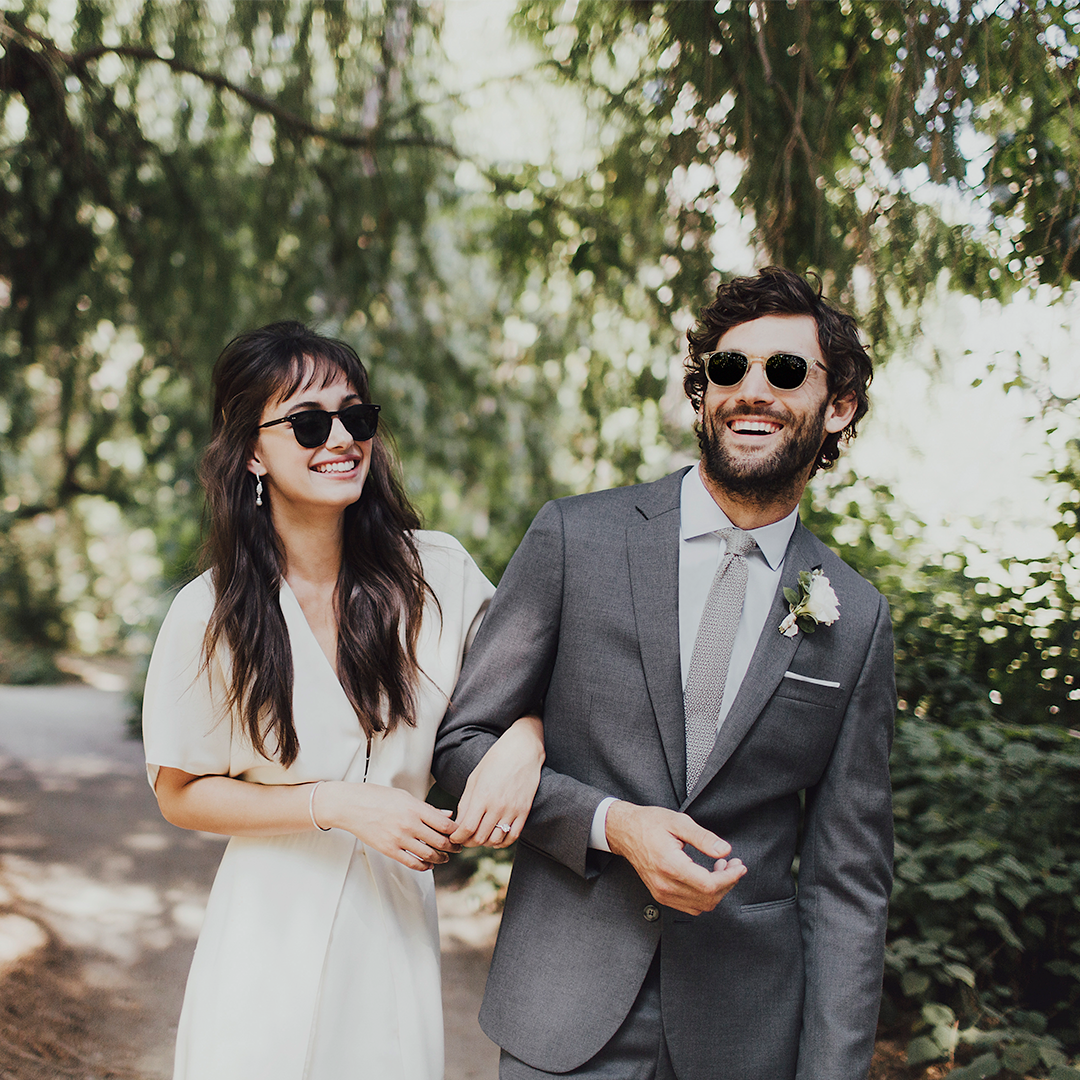 Navy Suit
For fall weddings that start in the evening, navy is the perfect groom suit. In the winter, you can get away with navy's dark color day or night. It's a little more formal than a grey suit, but it's easy to accessorize a navy suit for a low-key look.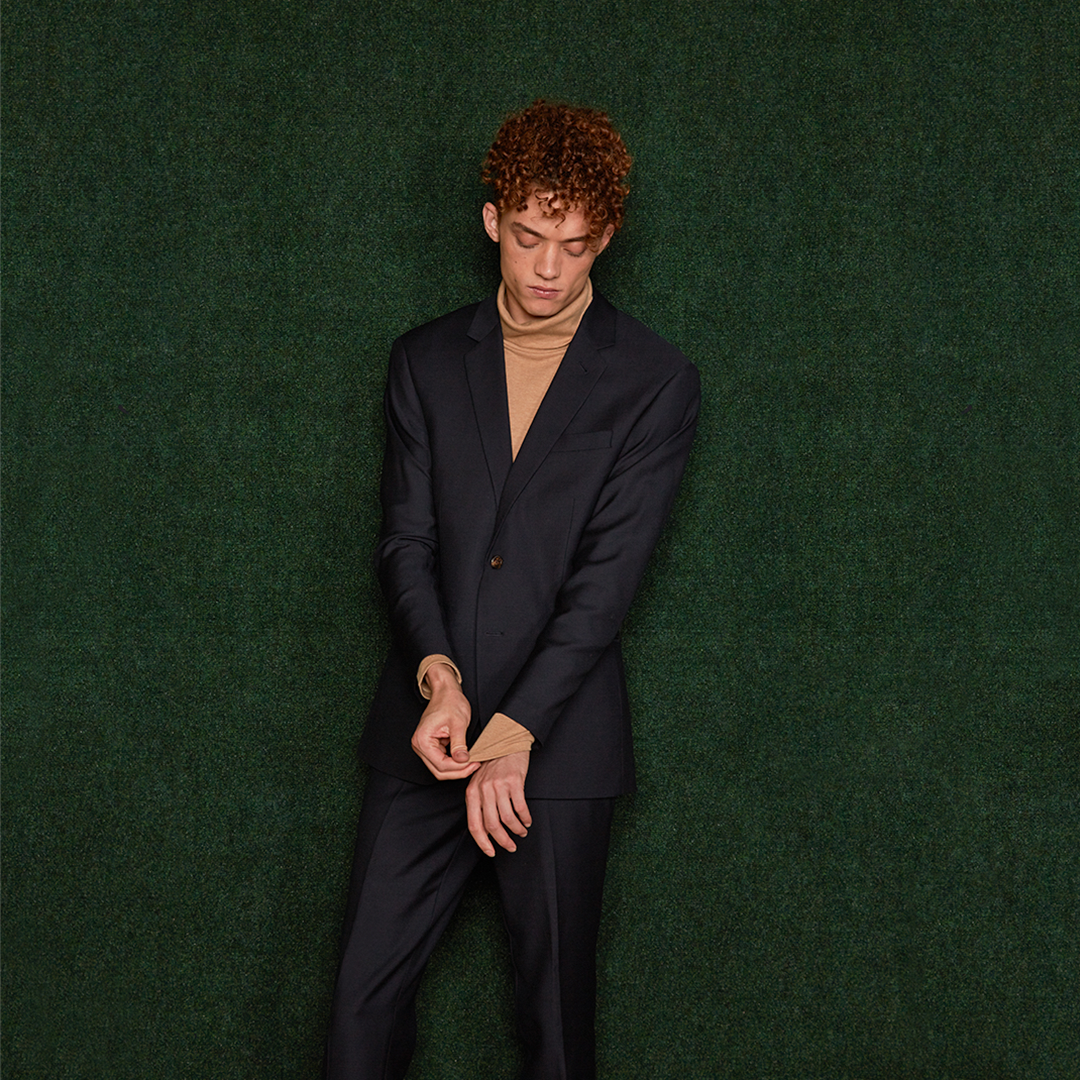 Black Suit
Late fall and early winter are often too cold for an outdoor wedding, which is why we recommend the black suit for chilly months. Besides, who would intentionally wear a full black suit in the dead of summer? Probably someone who owns multiple sticks of anti-perspirant, and moisture-wicking undergarments. But not you.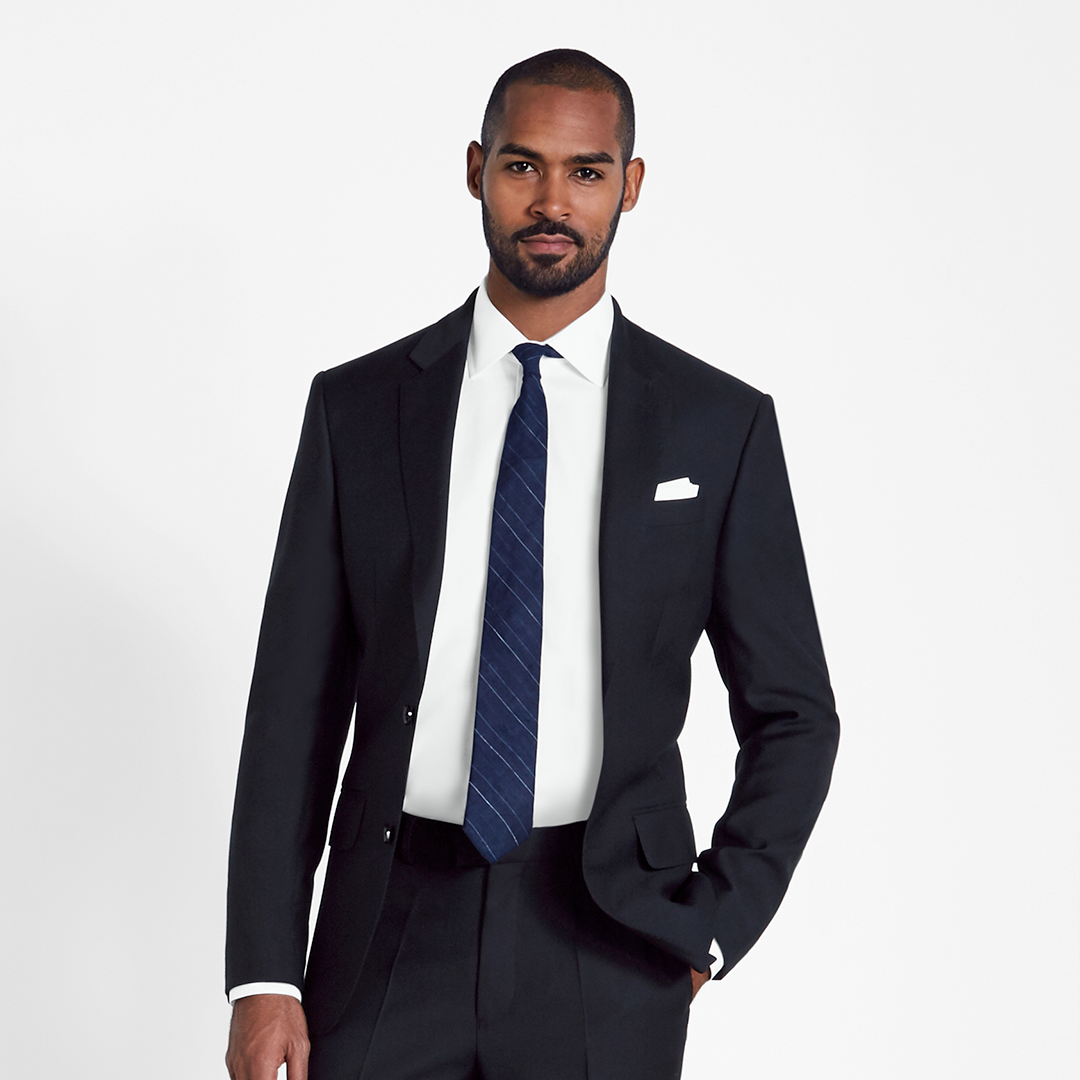 We mentioned before that a black suit can look a little harsh in the context of a wedding, but you can soften a black suit's impact by accessorizing with muted color, and even brown shoes. Yep, fair game.

Charcoal Suit
Like a navy suit, you can tone down the formal feel of a charcoal groom suit by wearing a necktie rather than a bow tie. Oddly enough, adding a vest can make this suit feel a little more approachable. Otherwise, black and white accessories (like a bow tie and pocket square) will bump this suit up into the black tie optional dress code category.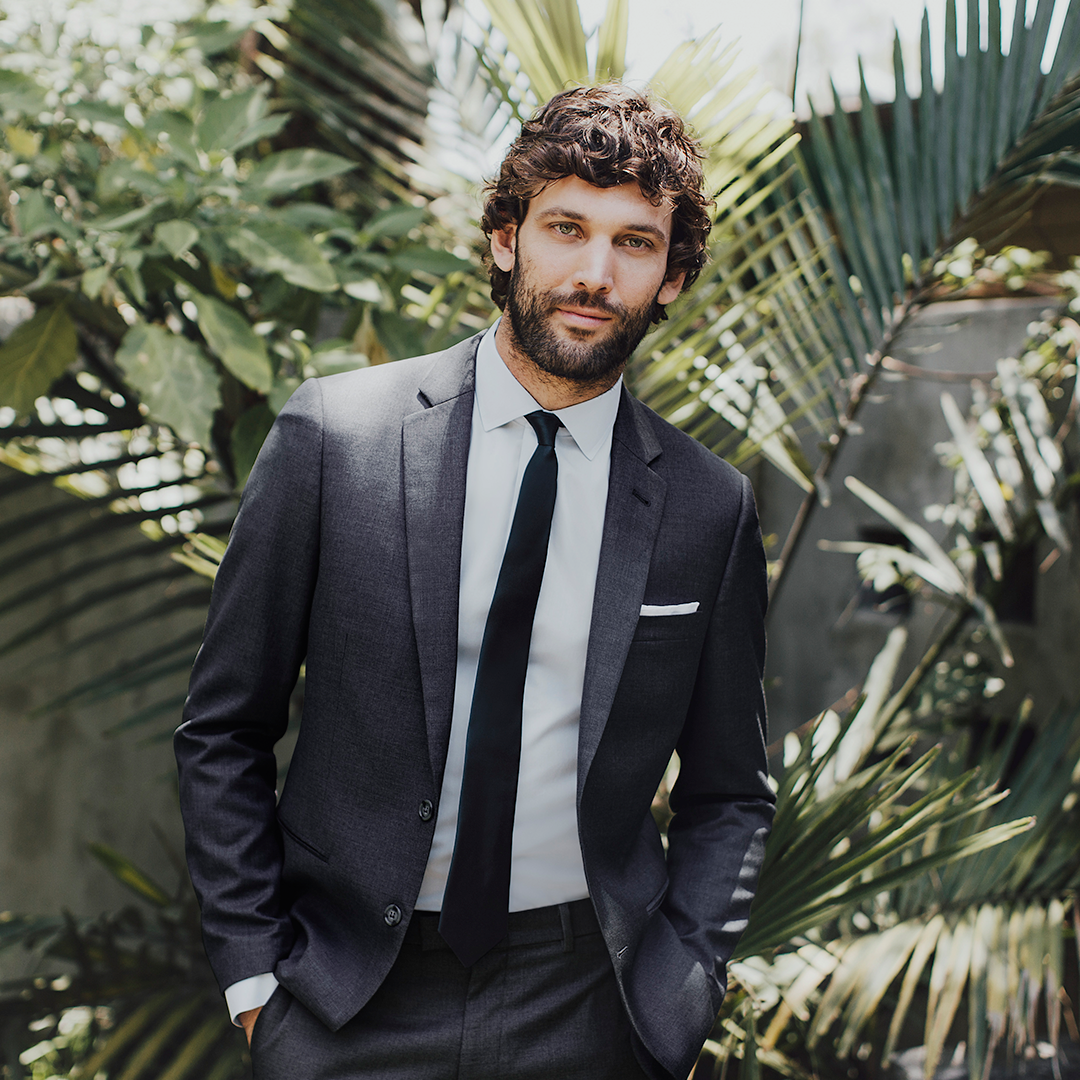 ---
Casual Groom Suits
If you don't wear suits all the time, the words "casual" and "suit" might seem to be polar opposites. The difference between a formal navy suit and a casual true blue suit might not be apparent, but it's actually pretty simple: you want your style to match your wedding style, and certain colors play better at a laid-back wedding.
Tan Suit
Think beaches, the countryside, the desert. This is casual. In fact, the tan suit was voted most likely to be worn without a tie or socks, according to a fake poll I just made up. But let me be very clear: Whether you wear socks or not, always wear shoes. Fun fact: You can't read a message in a bottle if the bottle is lodged in the arch of your left foot.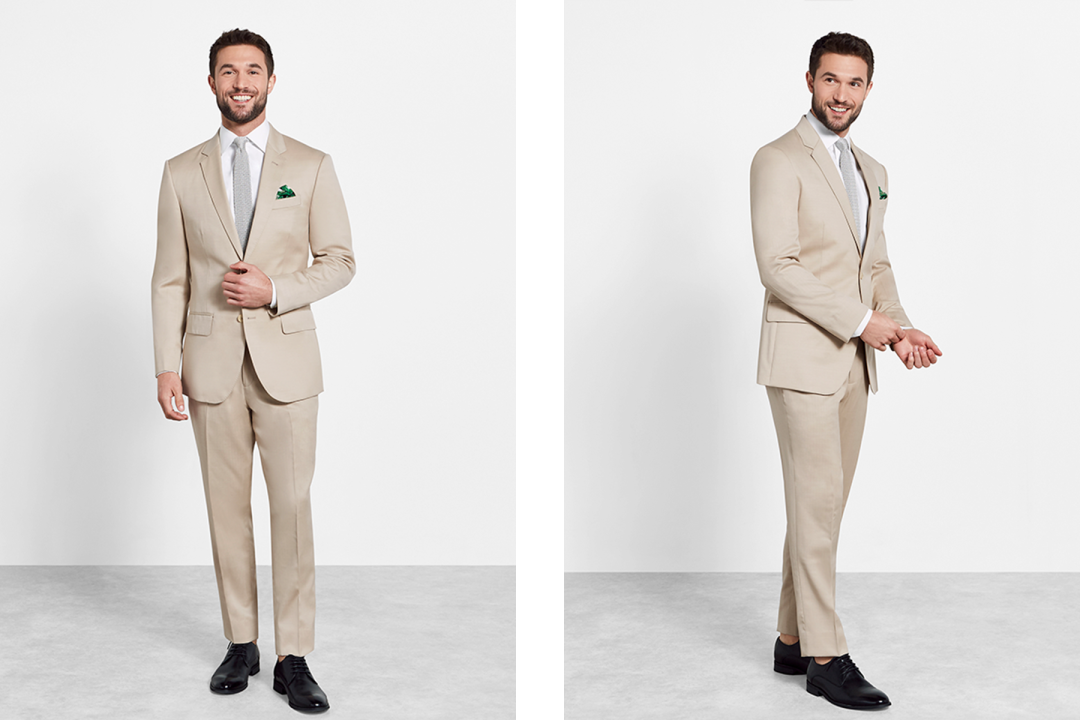 Light Grey Suit
The light grey groom suit is almost as chill as tan. So close. We've described light grey as "whimsical" in the past, and it's hard to find a better match for a spring wedding. Almost any color works with the light grey fabric, making it easy to personalize your look. Light grey and tan are both at their best for daytime, warm-weather weddings.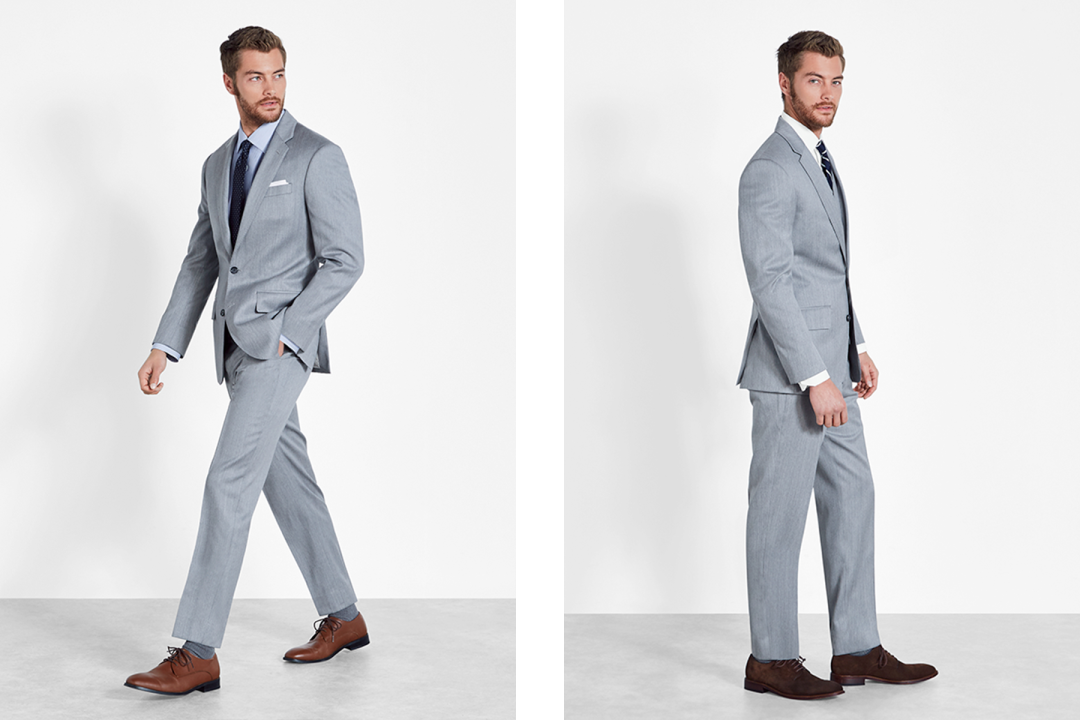 Blue Suit
For a minimal-effort way to inject some personality into your look, choose a blue groom suit. The fabric's rich color complements bold and low-key accessories alike. If you're going for subtle, try to vary shades of blue among your suit, tie, and shirt. The blue suit is ideal for a late afternoon, early evening wedding.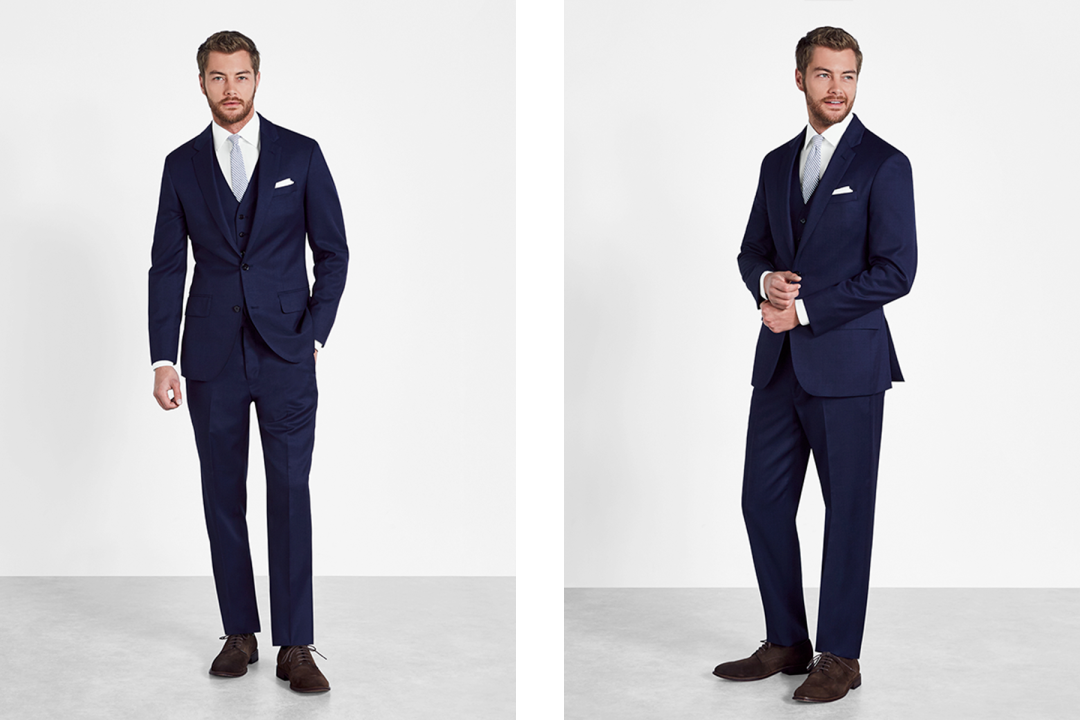 Grey Suit
Probably the surest bet of any casual suit on our list is the grey suit, in a nice medium grey hue. Like light grey, medium grey matches up with whatever color combos you throw at it. Unlike a lighter grey, this grey suit works especially well for casual evening weddings. It's an understated choice for a groom suit, but that can be a good thing.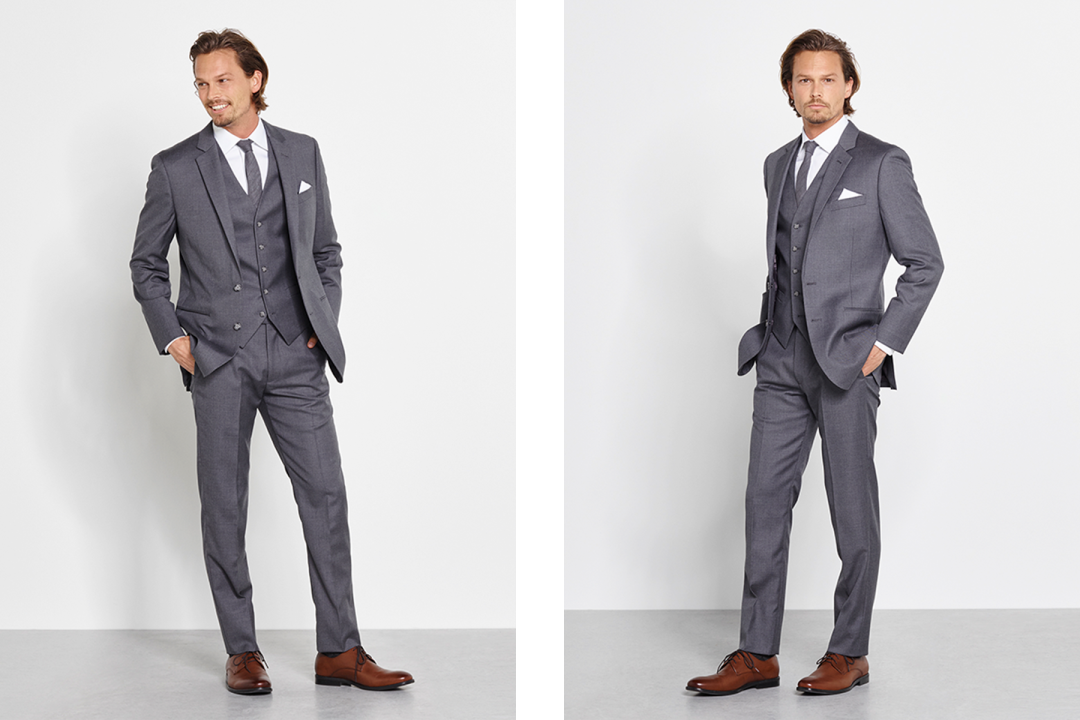 ---
Formal Groom Suits
Maybe you're planning a traditional wedding with a classic, old-school feel, but you don't think a tuxedo would fit your vision. That's fine—you can dial in a timeless look by wearing the right suit and accessorizing accordingly.
Grey Suit
"Wait, didn't I just see the grey suit listed as a casual suit?" (Scrolls up.) "I did just see the grey suit listed as a casual suit!"
Bravo, Sir Scrolls-A-Lot. But the joke's on you, because grey can do it all. Take a grey suit into formal territory by wearing black shoes and a bow tie, or a necktie and vest. In the context of a formal wedding, grey is a good option for a daytime ceremony—the color isn't too dark (too hot), but it's not a bright (casual) color, either.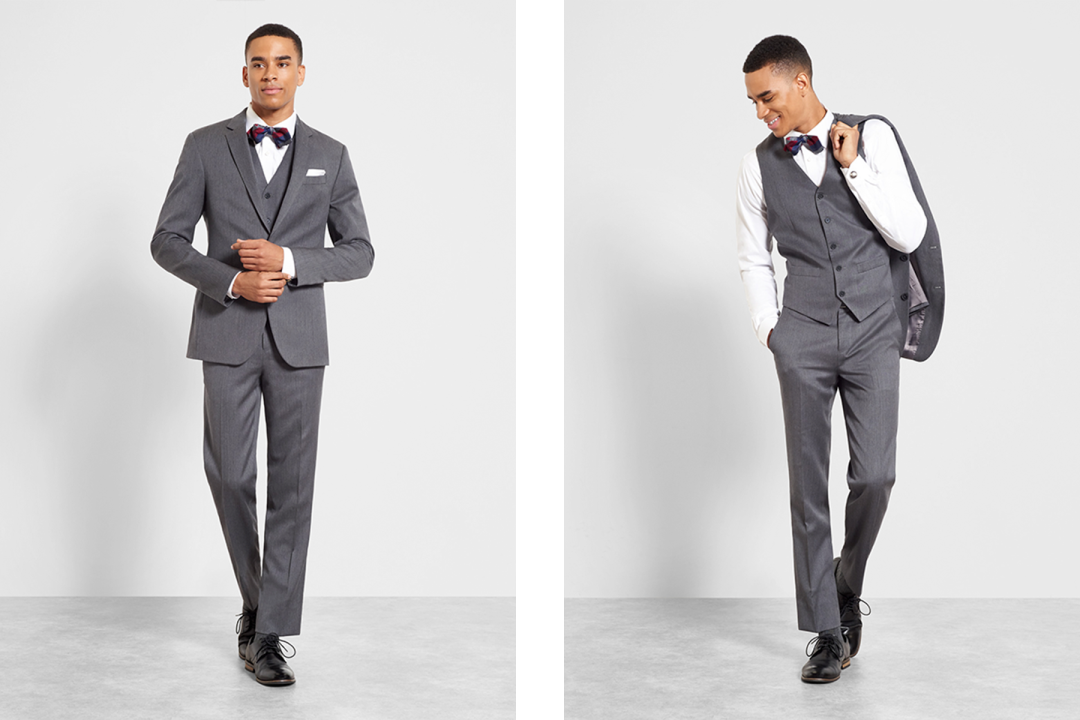 Navy Suit
The navy suit plays well with color, but if you're looking for a formal, traditional groom suit, you'll keep the color to a minimum anyway. That's what makes the navy suit such a smart choice: color is built right into the fabric. That color is what keeps a formal look interesting—the same reason midnight blue tuxedos are such a popular alternative to the classic black tux.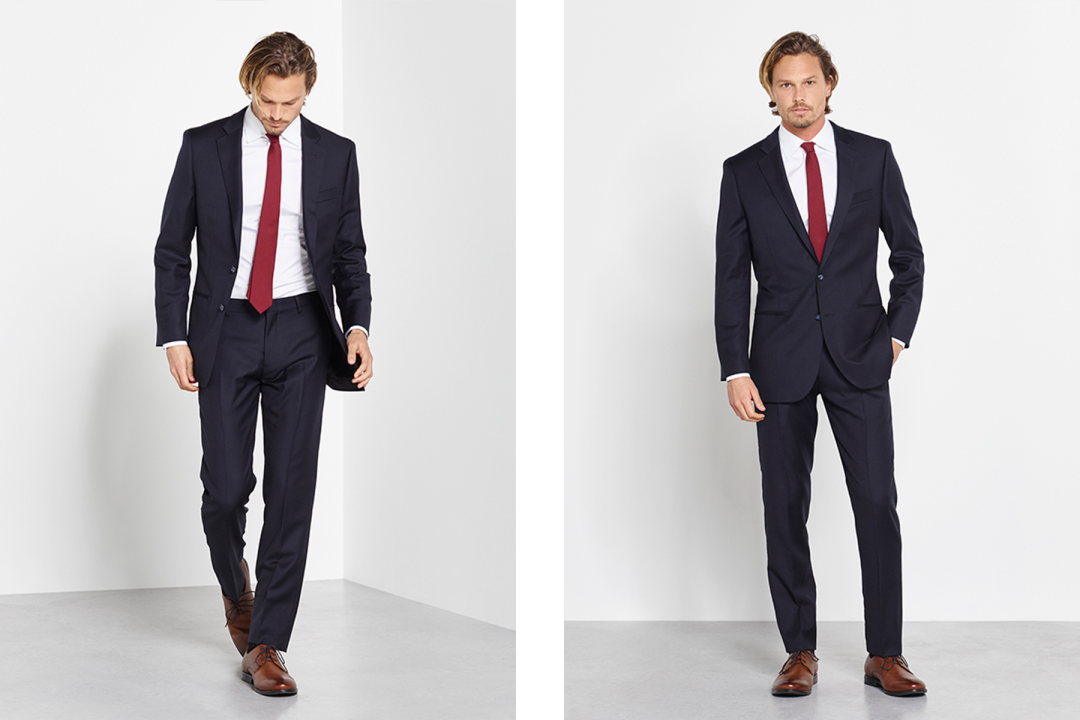 Charcoal Suit
This suit provides that serious black and white vibe, but the fabric offers some visual texture that softens the way your whole outfit looks together. Keep playing off that texture with your accessories—try a wool or linen tie rather than silk or satin, or a matte leather lace-up rather than shiny patent leather shoes.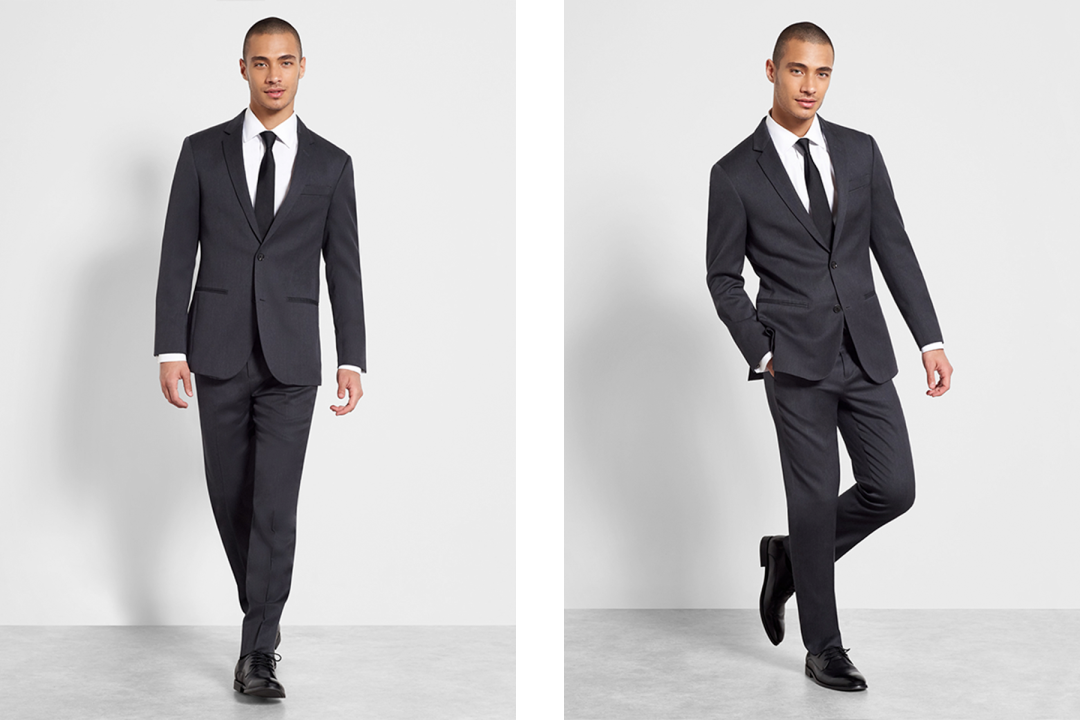 Black Suit
This is as formal as a suit gets. The biggest problem with dressing a black suit up with formal accessories for a wedding is that you wouldn't typically use a lot of colorful accessories in a buttoned-up look, and color is what makes this suit work as a groom suit. But if you're aiming for a Johnny Cash, Reservoir Dogs, Blues Brothers look, well—bullseye.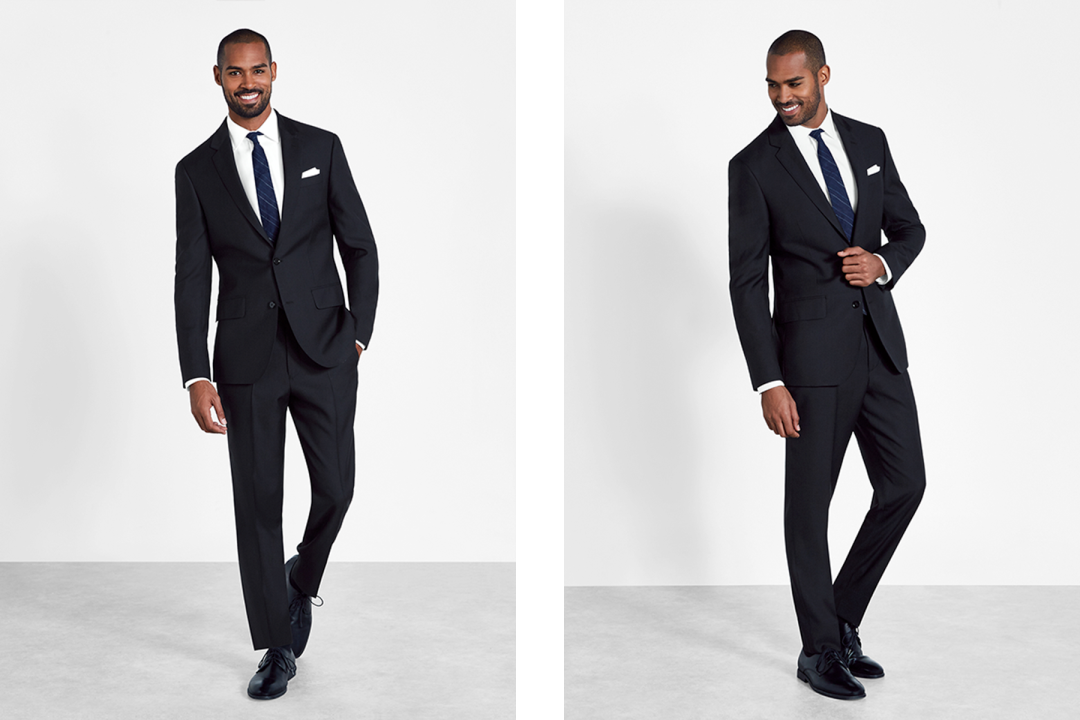 ---
Bonus: Renting vs. Buying a Groom Suit
You're here, so you obviously care about how you're going to look on one of the biggest days of your life. That's good. But it's not all about how you look—you should feel good, too. Will you be confident? Relaxed? Will you feel uncomfortable and nervous?
Buying a suit helps some guys find the confidence they need. I mean, who feels great in a cheap rental suit that doesn't really fit? We agree—renting sucks. That's why we changed it.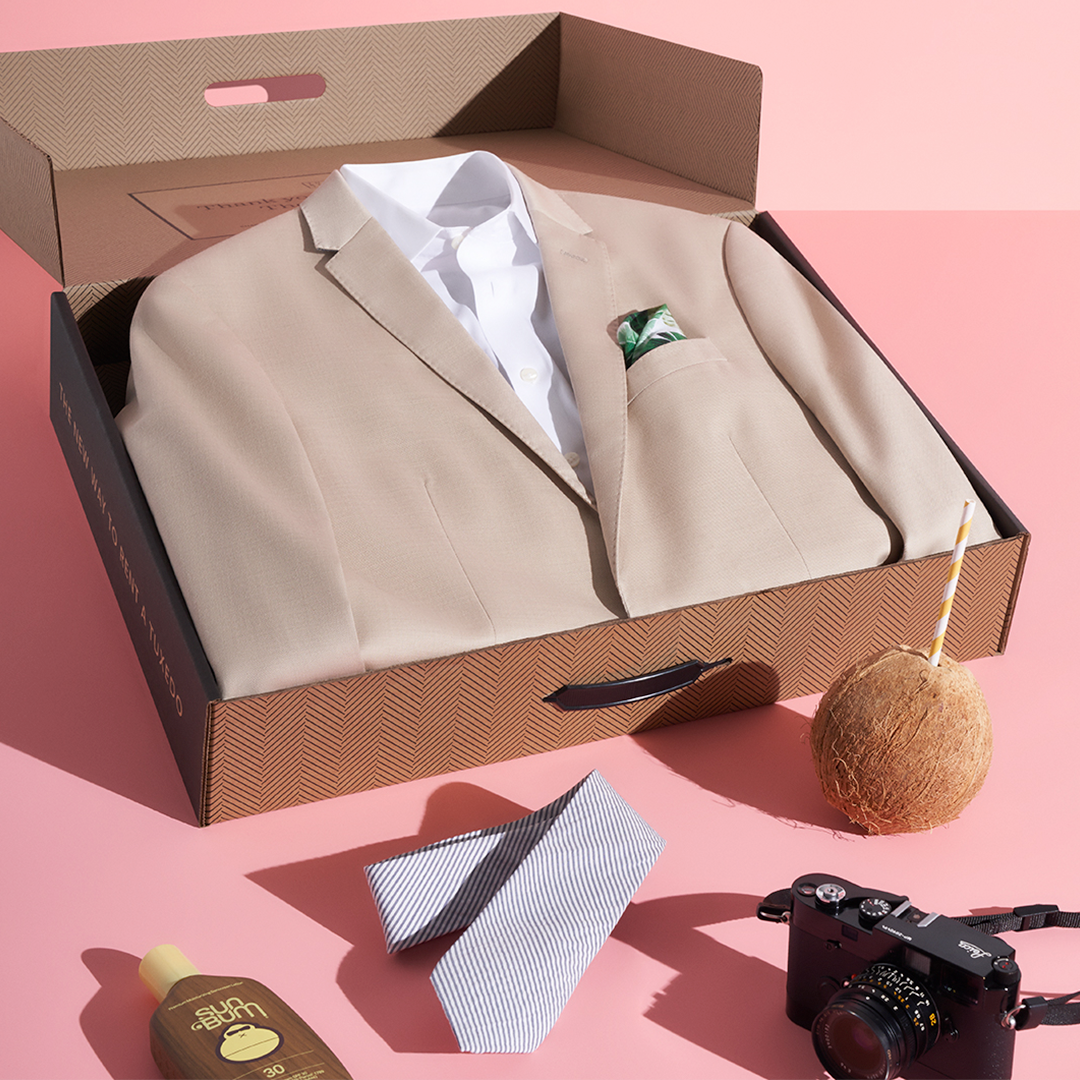 If you can't find $1200 in your wedding budget for a custom suit (that you may only wear once or twice), we can help. We design our rental suits with a modern fit and high quality fabrics like Italian merino wool—the good stuff. We don't do one-size-fits-all, because when a suit actually fits, you feel your best. That means a lot on your wedding day.
We also know it can be tough to coordinate looks with your wedding party—if you can even get your guys into the tux rental shop in the first place. Again, we can help. Just choose and assign looks, and manage your wedding party rentals entirely online. We'll help them find their perfect sizes from the comfort of their couch. Win-win.
Ready to rent a better groom suit? Get started here.